"The Onyx Hotel Tour" to piąta trasa koncertowa Britney. Promowała ona czwarty album "In The Zone". Trasa wokalistki objęła Amerykę Północną oraz Europę. Początkowo planowano 110 koncertów, lecz 55 z nich (powtórnie w Ameryce Północnej, Azji i Australii) zostało odwołanych z powodu kontuzji kolana Britney, której doznała na planie teledysku do piosenki "Outrageous". Pierwszy koncert odbył się drugiego marca 2004 roku w San Diego, a ostatni szóstego czerwca 2004 roku w Irlandii. Britney zapytana o to czy jej nowa trasa będzie przypominać poprzednią powiedziała "To będzie coś zupełnie innego. Wykonam trochę starych piosenek, ale w nowych wersjach. Stroje są bardzo fajne, szalone, dopracowane i inne… Myślę, że to będzie bardziej intymne show od tych, które zrobiłam. Jestem bardzo podekscytowana, nie byłam na scenie już dawna, więc jestem gotowa".
Jako suport przed Britney wystąpili Kelis, Skye Sweetnam, JC Chasez, oraz Wicked Wisdom. Oficjalne DVD nie zostało wydane. Niektóre fragmenty europejskiej części trasy zostały udokumentowane na potrzeby programu "Britney and Kevin: Chaotic". Koncert w ramach festiwalu "Rock In Rio" pokazała też portugalska telewizja. Nie zabrakło również czegoś dla amerykańskich fanów. Stacja Showtime pokazała koncert zatytułowany "Britney Spears: Live From Miami – The Onyx Hotel Tour", który przyciągnął sporą widownię. Trasa zarobiła 38 milionów dolarów.
Koncertowa setlista:
Toxic
Overprotected
Boys
Showdown
…Baby One More Time
Oops!…I Did It Again
(You Drive Me) Crazy
Everytime
The Hook Up
I'm A Slave 4 U
Shadow
Touch Of My Hand
Breathe On Me
Outrageous
(I Got That) Boom Boom
Me Against The Music
Daty i miejsca koncertów:
02.03.2004 – San Diego, CA – San Diego Sports Arena
03.03.2004 – Phoenix, AZ – Glendale Arena
05.03.2004 – Fresno, CA – Save Mart Arena
06.03.2004 – Las Vegas, NV – MGM Grand
07.03.2004 – Columbus, OH – Germain Amphitheater
08.03.2004 – Los Angeles, CA – Staples Center
09.03.2004 – Oakland Arena Oakland, CA
11.03.2004 – Portland, OR – Rose Garden Arena
12.03.2004 – Seattle, WA – Key Arena
15.03.2004 – Denver, CO – Pepsi Center
17.03.2004 – Omaha, NE – Qwest Center
18.03.2004 – Moline, IL – Mark of the Quad
19.03.2004 – Chicago, IL – Allstate Arena
21.03.2004 – Detroit, MI – Palace of Auburn Hills
23.03.2004 – Atlanta, GA – Philips Arena
24.03.2004 – Colonial Center Columbia, SC
25.03.2004 – Jacksonville, FL – Jacksonville Arena
28.03.2004 – Miami, FL – American Airlines Arena
29.03.2004 – Orlando, FL – TD Waterhouse Centre
31.03.2004 – Philadelphia, PA – Wachovia Center
03.04.2004 – Air Canada Centre Toronto, ON
04.04.2004 – Bell Centre Montreal, QC
06.04.2004 – Verizon Wireless Arena Manchester, NH
08.04.2004 – Dunkin' Donuts Center Providence, RI
10.04.2004 – Continental Airlines Arena East Rutherford, NJ
27.04.2004 – Wembley Arena, London, UK
04/29/04 SECC, Glasgow, UK
04/30/04 SECC, Glasgow, UK
05/01/04 MEN Arena, Manchester, UK
05/03/04 Wembley Arena, London, UK
05/04/04 Wembley Arena, London, UK
05/05/04 NIA Arena, Birmingham, UK
05/07/04 Ahoy Rotterdam, Netherlands
05/09/04 Forum Copenhagen, Denmark
05/10/04 Spektrum Oslo, Norway
05/11/04 Globe Stockholm, Sweden
05/14/04 Festhalle Frankfurt, Germany
05/15/04 Colorline Hamburg, Germany
05/16/04 Velodrom Berlin, Germany
05/18/04 Garnier Halle Lyon, France
05/19/04 FilaForum Milan, Italy
05/20/04 Hallenstadion Zurich, Switzerland
05/22/04 Stadthalle Vienna, Austria
05/23/04 Arena Budapest, Hungary
05/25/04 Olympiahalle Munich, Germany
05/26/04 Erdgasarena Riesa, Germany
05/28/04 Arena Oberhausen, Germany
05/29/04 Flexpo Gent, Belgium
05/30/04 Bercy Paris, France
06/01/04 Odyssey Arena, Belfast, Ireland
06/02/04 The Point, Dublin, Ireland
(!) Kolejne koncerty zostały odwołane z powodu groźnej kontuzji kolana, której piosenkarki nabawiła się podczas kręcenia wideoklipu do piosenki "Outrageous".
Toxic / Overprotected / Boys / Showdown:
…Baby One More Time / Oops…I Did it Again! / Crazy:
Everytime / The Hook Up / I'm Slave 4 U:
Shadow: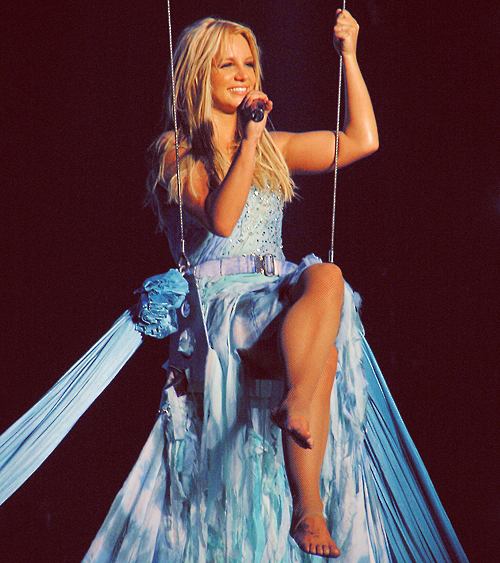 Touch Of My Hand:
Breathe On Me:
Outrageous:
(I Got That) Boom Boom:
Me Against The Music: