Czwarta z kolei trasa koncertowa promowała trzeci album piosenkarki, zatytułowany po prostu "Britney". Nazwę trasy "A Dream Within a Dream" ("Sen we Śnie") zaczerpnięto z wiersza Edgara Allana Poe'a, poety żyjącego w XIX wieku. Tym razem, występy nie objęły swym zasięgiem Europy. Skupiono się przede wszystkim na Stanach Zjednoczonych. Za granicami swej ojczyzny, artystka dała zaledwie trzy koncerty: w Toronto (Kanada), w Meksyku i Japonii. W sumie, było ich 68. Głównym reżyserem i choreografem trasy został utalentowany tancerz i choreograf, prywatnie przyjaciel Britney – Wade Robson. Wspólpraca z nim złożyła się w dużej mierze na sukces całego przedsięwzięcia, które zdumiało rozmachem. Zachwycała również dwupoziomowa scena z wydłużonym wybiegiem oraz platforma unosząca Britney nad publicznością. Konstrukcja sceny pozwalała również na szybką zmianę scenografii (klub w utworze "Boys" i dżungla w "Slave 4 U"). W finałowym występie z piosenką "…Baby One More Time", główna część sceny tonęła w strugach deszczu, dając niesamowity efekt i wzbudzając dodatkowy dreszcz emocji wśród zebranej publiczności. Podczas wybranych koncertów trasy w 2002 roku Britney śpiewała swoje niezrealizowane utwory w akompaniamencie pianina. Były to "Mystic Man", "Weakness", "You Were My Home", albo "My Love Was Always There".
Według szacunków, trasa zarobiła niespełna 44 miliony dolarów. W 2002 rok wydano DVD "HBO Special: Live from Las Vegas" z zarejestrowanym 18 listopada 2001 roku koncertem w MGM Grand Garden Arena w Las Vegas. W tym samym czasie zrealizowano również dokument w reżyserii Judy Hoffman – "Stages: Three Days in Mexico", ukazujący pobyt Britney w Meksyku (gdzie przerwano koncert z powodu burzy!). Za pomocą profesjonalnych kamer zarejestrowano również występ w Tokio w Japonii (tam z kolei, podczas występu z piosenką "…Baby One More Time", Britney pośliznęła się na mokrej nawierzchni i upadła, powodując salwy śmiechu wśród fanów!). Materiał z tego koncertu wyemitował japoński oddział stacji muzycznej MTV. "Porównując tę i poprzednią trasę, można dostrzec sporą różnicę. Ne tylko dojrzałam ja, ale dojrzeli również moi fani. Na widowni widzę mnóstwo młodych ludzi, ale pojawili się i ci całkiem dorośli. Jest ich naprawdę sporo. Muszę przyznać, że to niezwykle pokrzepiające i schlebiające" – wyznała Britney w jednym z wywiadów telewizyjnych.
"Moim ulubionym strojem na tej trasie jest kurtka, którą mam na sobie podczas występu z piosenką 'I Love Rock'n'Roll'. Wówczas wykonuję również skok z platformy. Jestem oczywiście przyczepiona specjalną liną, więc czuję się bezpiecznie, chociaż na początku, kiedy tam weszłam i popatrzyłam w dół… 'Chryste! Nie mogę tego zrobić!' – pomyślałam. Ale skoczyłam… I już tak skaczę niemal każdego wieczora…" – skwitowała, wybuchając śmiechem. "Nadal, przed każdym występem odczuwam tremę" – przyznała Britney. Kiedy za kulisami słyszę wiwatujący tłum, myślę sobie: "Oho… Znowu się zaczyna…" i wychodzę na scenę. I kiedy już w pełni poczuję energię tłumu, trema znika. To coś wspaniałego!" – stwierdziła. "Podczas tej trasy, dopadła mnie rutyna. Przeważnie… śpię do drugiej. Potem idę na próbę i wieczorem daję koncert. Czasami przed lub po koncercie idę na masaż, popijając herbatkę z cytryną".
Koncertowa setlista:
Oops!… I Did It Again
(You Drive Me) Crazy
Overprotected
Born To Make You Happy / Lucky / Sometimes
Boys
Stronger
Mystic Man, Weakness, You Were My Home, lub My Love Was Always There*
I'm Not A Girl, Not Yet A Woman
I Love Rock 'N' Roll
What It's Like To Be Me
Lonely
Don't Let Me Be The Last To Know
Anticipating
I'm A Slave 4 U
…Baby One More Time
*wybrane koncerty od 2002 roku
Daty i miejsca koncertów:
31.10.2001 – Washington, DC – MCI Center
01.11.2001 – Columbus, OH – Schottenstein Center
02.11.2001 – Pittsburgh, PA – Mellon Arena
05.11.2001 – Toronto, Ontario – Air Canada Centre
07.11.2001 – Uniondale, NY – Nassau Coliseum
08.11.2001 – State College, PA – Bryce Jordan Cente
09.11.2001 – Cleveland, OH – Gund Arena
10.11.2001 – Cincinnati, OH – Firstar Center
12.11.2001 – Denver, CO – Pepsi Center
13.11.2001 – Salt Lake City, UT – Delta Center
17.11.2001 – Las Vegas, NV – MGM Grand Garden
18.11.2001 – Las Vegas, NV – MGM Grand Garden
20.11.2001 – Anaheim, CA – Arrowhead Pond of Anaheim
21.11.2001 – Los Angeles, CA – Staples Center
26.11.2001 – Auburn Hills, MI – Palace of Auburn Hills
27.11.2001 – Milwaukee, WI – Bradley Center
28.11.2001 – Rosemont, IL – Allstate Arena
29.11.2001 – Minneapolis, MN – Target Center
02.12.2001 – East Rutherford, NJ – Continental Airlines Arena
03.12.2001 – Albany, NY – Pepsi Arena
04.12.2001 – New York, NY – Madison Square Garden
08.12.2001 – Hartford, CT – Hartford Civic Center
09.12.2001 – Boston, MA – Fleet Center
10.12.2001 – Philadelphia, PA – First Union Center
14.12.2001 – Raleigh, NC – Sports Entertainment Center
15.12.2001 – Atlanta, GA – Philips Arena
16.12.2001 – New Orleans, LA – New Orleans Arena
18.12.2001 – Tampa, FL – Ice Palace
19.12.2001 – Miami, FL – American Airlines Arena
21.12.2001 – Washington, DC – MCI Center
25.04.2002 – Tokyo, Japan – Tokyo Dome
24.05.2002 – Las Vegas, NV – Mandalay Bay Events Center
25.05.2002 – Las Vegas, NV – Mandalay Bay Events Center
28.05.2002 – Vancouver, BC – PNE Coliseum
29.05.2002 – Tacoma, WA – Tacoma Dome
03.05.2002 – Portland, OR – Rose Garden
01.06.2002 – Oakland, CA – Oakland Coliseum
02.06.2002 – San Jose, CA – Compaq Center
04.06.2002 – Los Angeles, CA – Staples Center
05.06.2002 – San Diego, CA – Cox Arena
10.06.2002 – Sacramento, CA – Arco Arena
12.06.2002 – Phoenix , AZ – America West Arena
14.06.2002 – Lubbock, TX – United Spirit Arena
15.06.2002 – Antonio, TX – Alamodome San
16.06.2002 – Houston, TX – Compaq Center
20.06.2002 – Chicago, IL – United Center
21.06.2002 – Indianapolis, IN – Conseco Field House
22.06.2002 – St. Louis, MO – Savvis Center
24.06.2002 – Detroit, MI – The Palace of Auburn Hills
25.06.2002 – Hamilton, Ontario – Copps Coliseum
26.06.2002 – Buffalo, NY – HSBC Arena
28.06.2002 – Philadelphia, PA – First Union Center
29.06.2002 – Boston, MA – Fleet Center
20.06.2002 – Worcester, MA – Worcester's Centrum Centre
05.07.2002 – Atlantic City, NJ – Boardwalk Hall
06.07.2002 – East Rutherford, NJ – Continental Airlines Arena
09.07.2002 – Uniondale, NY – Nassau Coliseum
10.07.2002 – Washington, DC – MCI Center
11.07.2002 – Charlotte Coliseum Charlotte, NC
13.07.2002 – Lauderdale, FL – National Car Rental Center Fort
14.07.2002 – Orlando, FL – TD Waterhouse
18.07.2002 – Bossier City, LA – Century Tel Arena
19.07.2002 – Oklahoma City, OK – The New Oklahoma County Center
20 07.2002 – Little Rock, AR – Alltel Arena
22.07.2002 – Dallas, TX – American Airlines Center
27.07.2002 – Mexico City, Mexico – Foro Sol
28.07.2002 – Mexico City, Mexico – Foro Sol
Oops!… I Did It Again:
(You Drive Me) Crazy:
Overprotected:
Born To Make You Happy / Lucky / Sometimes:
Boys / I'm Not A Girl, Not Yet A Woman: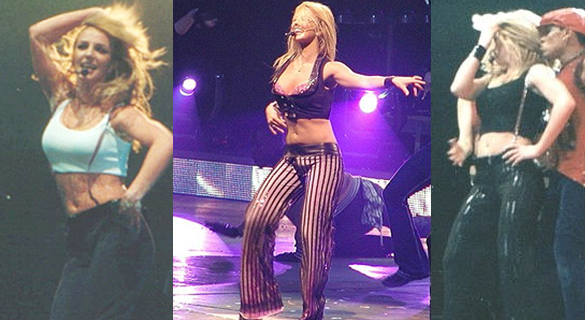 Stronger:
I Love Rock 'N' Roll:
What It's Like To Be Me / Lonely:
Don't Let Me Be The Last To Know: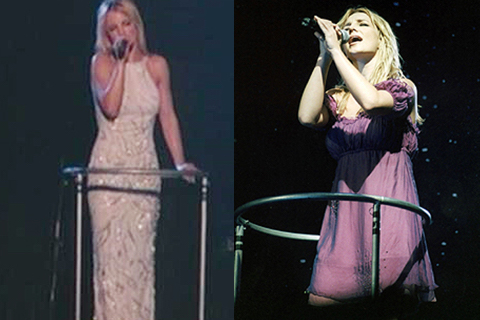 Anticipating:
I'm A Slave 4 U: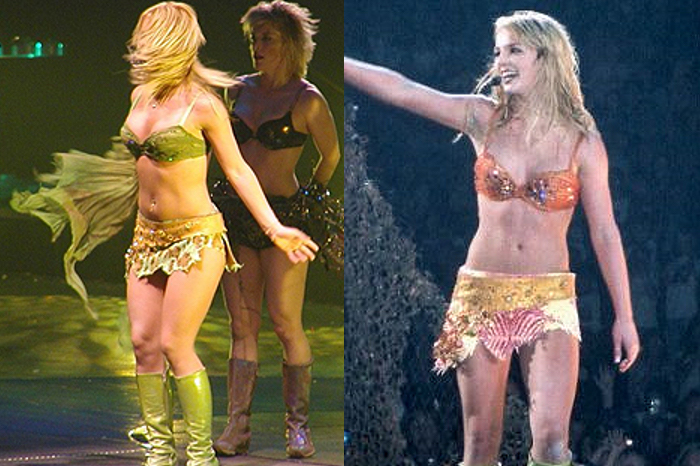 …Baby One More Time: